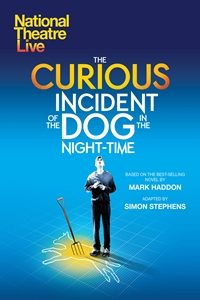 National Theatre Live: The Curious Incident of the Dog in the Night-Time
(NR)
Starring: Matthew Barker, Niamh Cusack, Sophie Duval, Rhiannon Harper-Rafferty, Paul Ritter
Directed By: Marianne Elliot
Genre: Program
Run Time: 2 hr. 30 min.
Based on the acclaimed novel by Mark Haddon, adapted by Simon Stephens and directed by Marianne Elliott, The Curious Incident of the Dog in the Night-Time has been hailed by The Times as 'a phenomenal combination of storytelling and spectacle'. Winner of 7 Olivier Awards in 2013, including Best New Play.
Christopher, fifteen years old, has an extraordinary brain - exceptional at maths while ill-equipped to interpret everyday life. When he falls under suspicion of killing Mrs Shears' dog Wellington, he records each fact about the event in the book he is writing to solve the mystery of the murder. But his detective work, forbidden by his father, takes him on a frightening journey that upturns his world.
PLAYING AT:
No showtimes available
on this date.
No showtimes available
on this date.