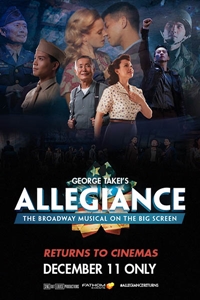 George Takei's Allegiance
(NR)
Starring: Lea Salonga, George Takei
Genre: Program
Run Time: 2 hr. 30 min.
Back by popular demand, Fathom Events and Sing Out, Louise! Productions bring George Takei's Allegiance: The Broadway Musical on the Big Screen, featuring an exclusive conversation with the creative team, to select cinemas nationwide for a one-night event December 11. Straight from its Broadway run and inspired by the true-life experience of its star George Takei (Star Trek, Heroes), Allegiance follows one family's extraordinary journey in this untold American story. Their loyalty was questioned, their freedom taken away, but their spirit could never be broken. Rejoice in one family's triumphant story of hope, love, and forgiveness in this groundbreaking musical.

PLAYING AT:
No showtimes available
on this date.
No showtimes available
on this date.