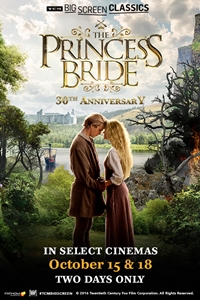 The Princess Bride 30th Anniversary (1987) presented by TCM
(NR)
Starring: Cary Elwes, Mandy Patinkin, Chris Sarandon, Christopher Guest, Robin Wright
Directed By: Rob Reiner
Genre: Program , Comedy
Run Time: 1 hr. 50 min.
Fathom Events, Turner Classic Movies and Twentieth Century Fox are celebrating the 30th anniversary of The Princess Bride and bringing the iconic movie to select cinemas nationwide for a special two-day event, which also includes an introduction from a TCM host. When the beautiful maiden Buttercup (Robin Wright) hears that her true love Westley (Cary Elwes) is dead, she reluctantly agrees to marry the loathsome Prince Humperdinck (Chris Sarandon). After Westley returns to rescue Buttercup, the two begin an epic adventure filled with fencing, fighting, giants, monsters, miracles, true love and hilarity!
PLAYING AT:
No showtimes available
on this date.
No showtimes available
on this date.