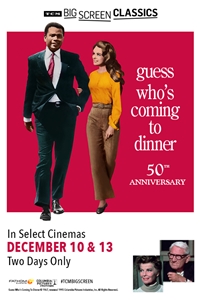 Guess Who's Coming to Dinner 50th Anniversary (1967) presented by TCM
(NR)
Starring: Spencer Tracy, Sidney Poitier, Katharine Hepburn, Katharine Houghton, Cecil Kellaway
Directed By: Stanley Kramer
Genre: Program , Comedy
Run Time: 2 hr. 0 min.
Fathom Events, Turner Classic Movies and Sony Pictures Entertainment are bringing Guess Who's Coming to Dinner to select cinemas nationwide for a special two-day event, which also includes an introduction from a TCM host. Joanna (Katharine Houghton) comes home with John (Sidney Poitier), her new fiancé. Although he's a successful doctor and a Nobel Prize candidate, her parents, Christina (Katharine Hepburn) and Matthew (Spencer Tracy), are taken aback when they discover John is black. And as John's parents also have their doubts over the impending marriage, the good doctor has his work cut out for him, as he won't marry Joanna unless there's unanimous parental consent.
PLAYING AT:
No showtimes available
on this date.
No showtimes available
on this date.