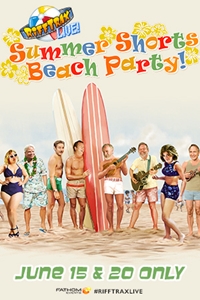 RiffTrax Live: Summer Shorts Beach Party!
()
Starring: Bridget Nelson, Mary Jo Pehl, Frank Conniff, Trace Beaulieu, Paul F. Tompkins
Genre: Program
Run Time: 2 hr. 0 min.
Fathom Events and RiffTrax.com® have partnered again to bring hilarious riffings of education shorts to the big screen LIVE on Thursday, June 15 followed by a special re-broadcast on Tuesday, June 20. Join Mike, Kevin, and Bill for an entertaining night, broadcast LIVE from the Beach Party Capital of the South - Nashville as they are joined by RiffTrax regulars Bridget Nelson and Mary Jo Pehl, the Mads from MST3K Trace Beaulieu and Frank Conniff, as well as some special celebrity guest including Paul F. Tompkins.This amazing night of riffing and comedy will be a summer-themed night of crazy riffed shorts culminating in a grand finale: a SUPER RIFF-A-PALOOZA with all the guests at once!

PLAYING AT:
No showtimes available
on this date.
No showtimes available
on this date.