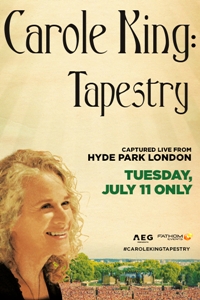 Carole King: Tapestry - Captured Live
()
Starring: Carole King
Genre: Program
Run Time: 1 hr. 40 min.
Fathom Events and AEG Worldwide are excited to bring legendary musician, Carole King, to cinemas nationwide for a special one-night event on Tuesday, July 11 in Carole King: Tapestry, captured live from Hyde Park, London. In July, 2016 Carole King performed her iconic album Tapestry at the BST Hyde Park London to a sold-out stadium full of adoring fans. Not only did Carole perform that album in its entirety for the first time, she also treated the 50,000 plus in attendance to a number of Goffin/King compositions plus for a rocking performance of I Feel The Earth Move with Cassidy Janson and the London cast of Beautiful The Carole King Musical.

PLAYING AT:
No showtimes available
on this date.
No showtimes available
on this date.