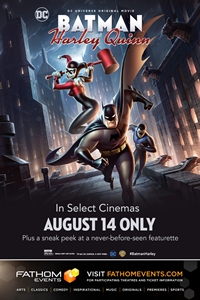 Batman and Harley Quinn
()
Genre: Program , Animation
Run Time: 1 hr. 20 min.
Fathom Events and Warner Bros. invite you to a premiere event when Batman and Harley Quinn comes to select cinemas nationwide for a special one-night event including a sneak peek at a Harley Quinn featurette. From an original story by animation icon Bruce Timm, comes an all-new DC Universe animated movie. Poison Ivy and Jason Woodrue (a.k.a. The Floronic Man) embark on an ecological quest to save the planet - and, unfortunately, eliminate most of humankind along the way. To save humanity, Batman and Nightwing are forced to enlist Harley Quinn to catch Poison Ivy, Harley's BFF and frequent partner-in-crime.
PLAYING AT:
No showtimes available
on this date.
No showtimes available
on this date.