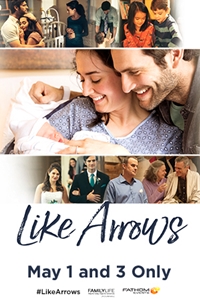 Starring: Alan Powell, Alex Kendrick, Katherine Shepler, Justin Torrence, Dave Blamy
Directed By: Kevin Peeples
Genre: Program
Run Time: 2 hr. 0 min.
Fathom Events and FamilyLife present Like Arrows in movie theaters nationwide for two nights on May 1 and 3, 2018, featuring an exclusive panel discussion with producers, Alex and Stephen Kendrick, Dennis Rainey, and Bob Lepine.
When rebellion creeps into their family, Charlie and Alice realize their approach to raising children isn't working, and they start searching for answers. But is it too late? FamilyLife's first feature film explores the joys and heartaches of parenting. Through a journey that unfolds over 50 years, Charlie and Alice discover the power of family and learn that knowing and living by God's word is the most important key to parenting with purpose.
PLAYING AT:
No showtimes available
on this date.
No showtimes available
on this date.