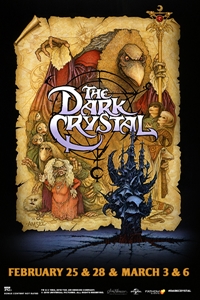 Premiere:The Dark Crystal (1982)
()
Starring: Jim Henson, Kathryn Mullen, Frank Oz, Dave Goelz
Directed By: Jim Henson, Frank Oz
Genre: Animation , Action/Adventure
Run Time: 1 hr. 40 min.
Fathom Events, Universal Pictures and The Henson Company are bringing The Dark Crystal back to select cinemas for four days only including a brand-new introduction with Lisa Henson who will reflect on the making of the one-of-a-kind film. From genius filmmaker Jim Henson comes the story of The Dark Crystal. Many years ago, the mysterious Dark Crystal was damaged, and an age of chaos began, led by the evil race of grotesque birdlike lizards, the Skeksis, who rule with an iron claw. Meanwhile the Gelfling orphan Jen, raised in solitude by a race of peace-loving creatures called the Mystics, embarks on a quest to find the missing shard of the Dark Crystal and restore balance to the universe.

PLAYING AT:
No showtimes available
on this date.
No showtimes available
on this date.