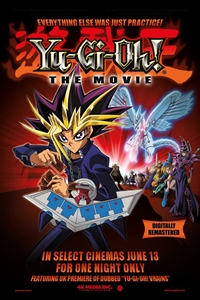 Starring: Dan Green
Directed By: Hatsuki Tsuji
Genre: Program , Animation
Run Time: 1 hr. 30 min.
Fathom Events and 4K Media are excited to bring the 2004 anime hit, Yu-Gi-Oh! The Movie, to cinemas nationwide for two days only on March 11 & 12! Heroic Yugi squares off against archrival Kaiba in an adventure even more dangerous when the imaginary monsters in their playing cards become ferociously real... and when an old evil enters the fray. Who will win this ultimate smackdown? Whether you're a novice Duelist or a professional, you'll want to watch and find out!

Recently digitally remastered, this special two-day event also features an exclusive first look of the sixth Yu-Gi-Oh! anime series, Yu-Gi-Oh! VRAINS!

PLAYING AT:
No showtimes available
on this date.
No showtimes available
on this date.