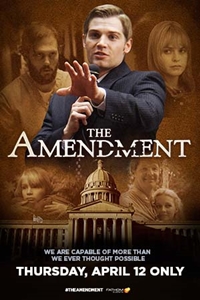 Genre: Program
Run Time: 2 hr. 0 min.
The Amendment is the inspiring true story of Brooks Douglass who survived, along with his sister, an unthinkable attack in his youth that claimed the lives of his parents, and who eventually found triumph over tragedy through faith and forgiveness. After the attack, Douglass went on to become the youngest state senator in Oklahoma history and authored fifteen pieces of legislation protecting victims' rights.

The Amendment features Mike Vogel and Taryn Manning, and in his film debut, Brooks Douglass plays his own father, Richard—a pastor, missionary, and shining example of the life-changing power of forgiveness.

Following the feature content, audiences will see a panel of experts discussing the importance of victims' rights. The panel will be led by Chris Harrison (The Bachelor) and include the film's writer/producer Brooks Douglass, lead actor Mike Vogel, and others.
PLAYING AT:
Thursday, April 12
Reserved Seating