One Piece Film: Strong World
(NR)
CHOOSE LOCATION:
Sunday, November 7
Dubbed | Reserved Seating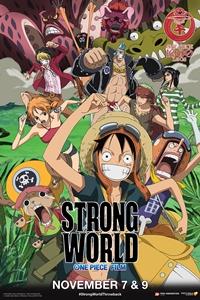 One Piece Film: Strong World
(NR)
Starring: Hiroaki Hirata, Carli Mosier, Yûichi Nagashima, Kazuya Nakai, Akemi Okamura
Directed By: Munehisa Sakai
Genre: Animation , Program
Run Time: 1 hr. 53 min.
The Straw Hat Pirates will soon set sail to their 1000th episode! To mark this major milestone for the One Piece franchise, Toei Animation and Fathom Events are bringing One Piece Film: Strong World, the 2009 film written by creator Eiichiro Oda and 10th film in the franchise, to US cinemas for the first time!There's gonna be a rumble in the jungle in "One Piece Film: Strong World" - an original One Piece movie written by creator Eiichiro Oda! When the Straw Hats catch wind of trouble in the peaceful waters of the East Blue, they quickly set a course for home! But before they reach their destination, fate leads them into the deadly path of Golden Lion Shiki. This gravity-defying madman needs a navigator, and he wants Nami! Shiki scatters the Straw Hats across the far corners of a floating island filled with ferocious, genetically-mutated monsters, and issues Nami and ultimatum: join his crew - or her friends die! BIG mistake. Luffy kicks his attack mode into Third Gear and begins a brutal rampage across the beast-ridden island. It's all hands on deck - including a new character - for this watershed adventure in the One Piece canon. Monkey vs. Lion. Winner gets the navigator!