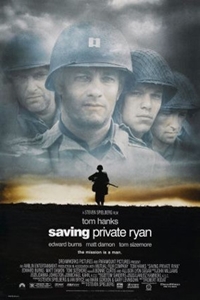 Starring: Tom Hanks, Tom Sizemore, Edward J. Burns., Matt Damon, Jeremy Davies
Directed By: Steven Spielberg
Genre: Drama , Action/Adventure
Run Time: 2 hr. 50 min.
Internationally acclaimed by critics and audiences alike, Saving Private Ryan, directed by Steven Spielberg, is an unforgettable film achievement that has had a profound and lasting impact throughout the world. Winner of five* Academy Awards®- including Best Director (Spielberg) - Saving Private Ryan also garnered two Golden Globe® Awards for Best Motion Picture (Drama) and Best Director. In the last great invasion, of the last great war, the greatest danger for eight men... was saving one.

*Winner: Best Directing (Steven Spielberg); Best Cinematography; Best Film Editing; Best Sound; and Best Sound Effects Editing, 1998.
PLAYING AT:
No showtimes available
on this date.
No showtimes available
on this date.