Tim Burton's The Nightmare Before Christmas
(PG)
CHOOSE LOCATION:
Sunday, October 25
|
| Reserved Seating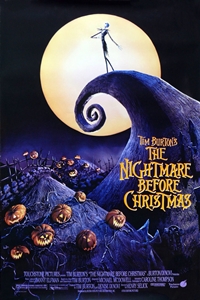 Tim Burton's The Nightmare Before Christmas
(PG)
Starring: Danny Elfman, Chris Sarandon, Catherine O'Hara, William Hickey, Glenn Shadix
Directed By: Henry Selick
Genre: Animation , Family
Run Time: 1 hr. 16 min.
Despite having recently presided over a very successful Halloween, Jack Skellington, aka the Pumpkin King, is bored with his job and feels that life in Halloweenland lacks meaning. Then he stumbles upon Christmastown and promptly decides to make the Yuletide his own.