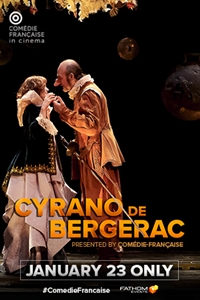 Comédie-Française: Cyrano de Bergerac (2019)
(NR)
Directed By: Denis Podalydès
Genre: Program
Run Time: 3 hr. 0 min.
From award-winning director, stage and cinema actor Denis Podalydès, this classic tale of hijinx comes to cinemas nationwide from the renowned Comédie-Française stage on January 23 only. Cyrano de Bergerac, despite a deformed and enormous nose, proves to be a talented swordsman and a man of great wit. In a local pastry shop, the precious Roxane, with whom Cyrano is secretly in love, reveals to him that she loves a young nobleman named Christian.

Blessed with all of life's gifts except for romantic eloquence, Christian asks Cyrano to help him woo Roxane, secretly prompting him with romantic turns of phrase. She becomes enamored, but at the siege of Arras, Christian dies and asks Cyrano to reveal the truth to Roxane.

PLAYING AT:
No showtimes available
on this date.
No showtimes available
on this date.