The Secret Life of Pets 2
(PG)
CHOOSE LOCATION:
No showtimes available
on this date.
No showtimes available
on this date.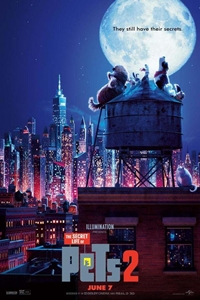 The Secret Life of Pets 2
(PG)
Starring: Kevin Hart, Jenny Slate, Eric Stonestreet, Ellie Kemper, Lake Bell
Directed By: Chris Renaud
Genre: Animation , Comedy
Run Time: 1 hr. 26 min.
Terrier Max is coping with some major life changes. His owner is now married and has a toddler, Liam. Max is so worried about protecting the boy that he develops a nervous tic. On a family trip to a farm, Max and mutt Duke encounter canine-intolerant cows, hostile foxes and a terrifying turkey, all of which only elevates Max's anxiety. Luckily, Max gets some guidance from veteran farm dog Rooster, who pushes Max to ditch his neuroses, find his inner alpha, and give Liam a little more freedom.