Macross Plus Movie Edition
(NR)
CHOOSE LOCATION:
Tuesday, December 14
Reserved Seating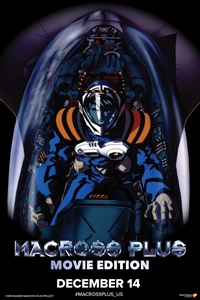 Macross Plus Movie Edition
(NR)
Starring: Takumi Yamazaki, Unsho Ishizuka, Rica Fukami, Mako Hyodo
Directed By: Shinichiro Watanabe
Genre: Program , Animation
Run Time: 2 hr. 0 min.
In the year 2040, on the distant planet Eden, former childhood friends Isamu Dyson and Guld Bowman find themselves pitted against each other as test pilots of rival teams in a competition to decide the next generation of variable mecha fighters. The two must also deal with their own unresolved history with mutual love interest, Myung Fang Lone, who has returned as the manager of Sharon Apple, the AI pop star (virturoid) and the galaxy's biggest singing sensation. When Sharon's advanced artificial intelligence gains consciousness, Isamu, Myung, and Guld must face their turbulent past and come together as Sharon Apple becomes self-aware and takes control of the Macross battlefortress itself!