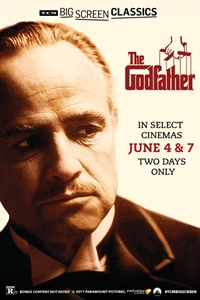 The Godfather (1972) presented by TCM
(NR)
Starring: Al Pacino, Marlon Brando, Robert Duvall, James Caan, Richard S. Castellano
Directed By: Francis Ford Coppola
Genre: Program , Drama
Run Time: 2 hr. 55 min.
Fathom Events, Turner Classic Movies and Paramount Pictures are bringing The Godfather to select cinemas nationwide for a special two-day event, which also includes an introduction from a TCM host. Francis Ford Coppola's epic masterpiece features Marlon Brando in his Oscar©-winning role as the patriarch of the Corleone family. Director Coppola paints a chilling portrait of the Sicilian clan's rise and near fall from power in America, masterfully balancing the story between the Corleone's family life and the ugly crime business in which they are engaged.
CHOOSE LOCATION:
No showtimes available
on this date.
No showtimes available
on this date.