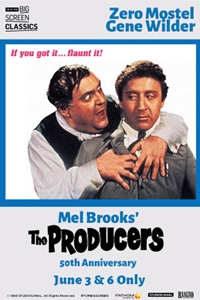 The Producers 50th Anniversary (1968) presented by TCM
()
Starring: Zero Mostel, Gene Wilder
Genre: Program
Run Time: 1 hr. 40 min.
Fathom Events, Turner Classic Movies, Studiocanal and Rialto Pictures are celebrating the 50th anniversary of The Producers by bringing the classic movie to select cinemas nationwide for a special two-day event, which also includes specially produced commentary from Turner Classic Movies. Once the King of The Great White Way, Max Bialystock (Zero Mostel) is reduced to romancing old ladies to finance his next flop show. But when nervous accountant Leopold Bloom (Gene Wilder) surmises that more money could be made from a flop than a hit, the next step is to produce the Busby Berkeleyesque musical Springtime for Hitler and to cast stoned-out Flower Child "LSD" (Dick Shawn) in the lead. A surefire flop, or is it?
PLAYING AT:
No showtimes available
on this date.
No showtimes available
on this date.