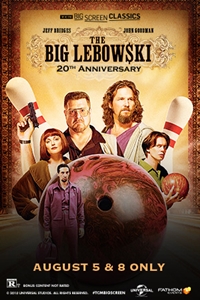 The Big Lebowski 20th Anniversary (1998) presented by TCM
()
Starring: Jeff Bridges, John Goodman, Julianne Moore, Steve Buscemi
Directed By: Joel Coen
Genre: Program
Run Time: 2 hr. 10 min.
Fathom Events, Turner Classic Movies and Universal Pictures are celebrating the 20th anniversary of The Big Lebowski and bringing the iconic movie to select cinemas nationwide for a special two-day event, which also includes specially produced commentary from Turner Classic Movies. From the Academy Award®-winning Coen brothers, The Big Lebowski is a hilariously quirky comedy about bowling, a severed toe, White Russians and a guy named...The Dude. Jeff "The Dude" Lebowski doesn't want any drama in his life...heck, he can't even be bothered with a job. But, he must embark on a quest with his bowling buddies after his rug is destroyed in a twisted case of mistaken identity.
PLAYING AT:
No showtimes available
on this date.
No showtimes available
on this date.