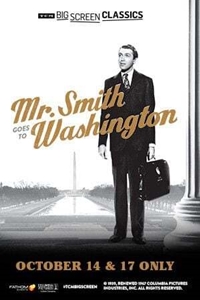 Mr. Smith Goes to Washington (1939) presented by TCM
()
Starring: James Stewart, Jean Arthur, Claude Rains, Edward Arnold, Guy Kibbee
Directed By: Frank Capra
Genre: Program
Run Time: 2 hr. 20 min.
Fathom Events, Turner Classic Movies and Sony Pictures Entertainment are bringing Mr. Smith Goes to Washington to select cinemas nationwide for a special two-day event, which also includes specially produced commentary from Turner Classic Movies. Jeff Smith (James Stewart) is appointed as a U.S. Senator by a corrupt political party machine headed by the Governor, a publisher and Senator Paine (Claude Rains). Paine, hoping to keep Senator Smith from prying into a pending bill suggests to Smith that he sponsor his own bill. Meanwhile, Smith's secretary informs him that the two projects share the same land site! Mr. Smith threatens Paine with exposure and fights back with a heroic one-man filibuster.
PLAYING AT:
No showtimes available
on this date.
No showtimes available
on this date.