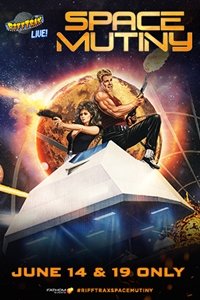 RiffTrax Live: Space Mutiny
()
Starring: Mike Nelson, Kevin Murphy, Bill Corbett
Genre: Program
Run Time: 2 hr. 0 min.
Fathom Events and RiffTrax.com® present a LIVE never-before-seen riffing on the out-of-this-world '80s adventure, Space Mutiny on Thursday, June 14, followed by a special re-broadcast on Tuesday, June 19. Join the guys who make movies funny -- Mike, Kevin, and Bill -- as they take on this hilariously bad sci-fi epic. Combine a wardrobe of spandex and tinfoil; a set boasting AstroTurf® and spray-painted floor buffers; and special effects that, well, aren't so special, and you've got one of the most hysterical cheeseball movies to ever come out of the '80s. Grab your friends and have a riot with this riff on the underground cult hit, guaranteed to have you in stitches.

PLAYING AT:
No showtimes available
on this date.
No showtimes available
on this date.