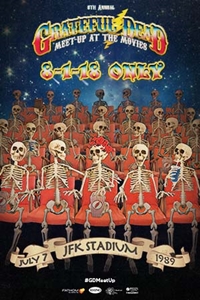 Grateful Dead Meet-Up 2018
(NR)
Starring: The Grateful Dead
Genre: Program
Run Time: 3 hr. 0 min.
Celebrate the 8th Annual Grateful Dead Meet-Up at the Movies when Fathom Events and Rhino Entertainment, bring the complete July 7, 1989 concert recorded at John F. Kennedy Stadium in Philadelphia to movie theatres nationwide. This special one-night event offers a snapshot of the Dead's 1989 tour, where the band played to some of its biggest audiences ever and helped raze the aging stadium, thundering through "Hell In A Bucket," "Little Red Rooster", Bob Dylan's "Stuck Inside Of Mobile With The Memphis Blues Again", and closed the show with "Knockin' On Heaven's Door," the last song ever performed at JFK.

PLAYING AT:
No showtimes available
on this date.
No showtimes available
on this date.