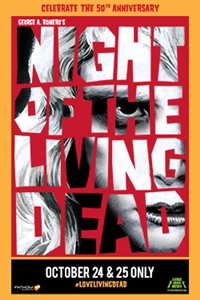 Night of the Living Dead 50th Anniversary
()
Starring: Duane Jones, Judith O'Dea, Karl Hardman, Marilyn Eastman, Keith Wayne
Directed By: George A. Romero
Genre: Program
Run Time: 1 hr. 50 min.
Fathom Events and Living Dead Media are bringing George A. Romero's Night of the Living Dead 50th Anniversary to select cinemas nationwide for a special two-day event, featuring an exclusive introduction from George C. Romero and Andrew Romero. A deceptively simple tale of a group of strangers trapped in a farmhouse who find themselves fending off a horde of recently dead, flesh-eating ghouls, Romero's claustrophobic vision of a late-1960s America literally tearing itself apart rewrote the rules of the horror genre, combined gruesome gore with acute social commentary, and quietly broke ground by casting a black actor (Duane Jones) in its lead role.

PLAYING AT:
No showtimes available
on this date.
No showtimes available
on this date.