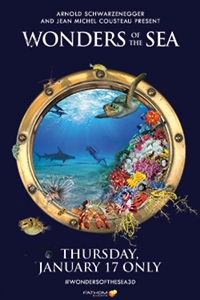 Directed By: Jean-Michel Cousteau, Jean-Jacques
Genre: Program , Documentary
Run Time: 1 hr. 40 min.
In cinemas for one night on Thursday, January 17, Wonders of the Sea 3D takes viewers on a trip under the ocean, capturing incredible footage of rarely seen sea creatures, while warning about the impacts of climate change. Jean Michel Cousteau and his children Celine and Fabien embark on a voyage to discover the ocean as never before seen and learn more about the threats that put our ocean at risk. Narrated by renowned environmentalist Arnold Schwarzenegger, Wonders of the Sea showcases awe-inspiring scenery, in breathtaking 3D. These rarely-seen multicolored creatures performing in an exceptionally vibrant underwater world will fascinate, educate and entertain the whole family.
PLAYING AT:
No showtimes available
on this date.
No showtimes available
on this date.