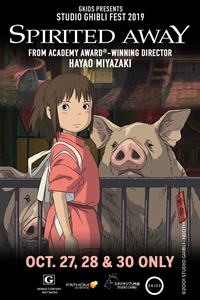 Spirited Away - Studio Ghibli Fest 2019
()
Genre: Program
Run Time: 2 hr. 20 min.
Fathom Events and GKIDS bring Hayao Miyazaki's Academy Award®-winning film, Spirited Away, to movie theatres nationwide for a special three-day event as part of Studio Ghibli Fest 2019. Chihiro's family is moving to a new house, but when they stop on the way to explore an abandoned village, her parents undergo a mysterious transformation and Chihiro is whisked into a world of fantastic spirits ruled over by the sorceress Yubaba. Put to work in a magical bathhouse for spirits and demons, Chihiro must use all her wits to survive in this strange new place, find a way to free her parents and return to the normal world.

CHOOSE LOCATION:
No showtimes available
on this date.
No showtimes available
on this date.