RiffTrax Live: Giant Spider Invasion
()
CHOOSE LOCATION:
No showtimes available
on this date.
No showtimes available
on this date.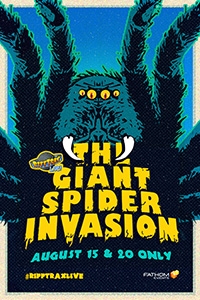 RiffTrax Live: Giant Spider Invasion
()
Starring: Alan Hale Jr, Barbara Hale, Robert Easton, Bill Corbett, Mike Nelson
Genre: Program
Run Time: 2 hr. 0 min.
Fathom Events and Rifftrax have joined forces to bring you a new take on the MST3K favorite - Giant Spider Invasion! This special two-night event will be riffed live in theatres! There's a monster in Wisconsin, and it's going to, VERY slowly, strike TERROR INTO YOUR HEART! Sure, your grandma could outrun it, but TERROR is more fun! When a fiery meteor lands in the woods, strange things begin to happen in this small Wisconsin town. While the townspeople are picked off by spiders of varying sizes, two esteemed scientists ramble around the countryside in a late model sedan, where they find friendship, romance and a big mechanical spider built on a Volkswagen Beetle chassis!