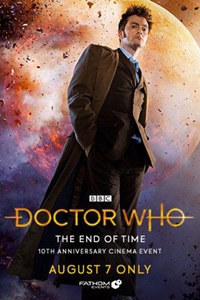 Doctor Who: The End of Time 10th Anniversary
(NR)
Starring: Billie Piper, Catherine Tate, John Simm, Elisabeth Sladen, John Barrowman
Genre: Program
Run Time: 2 hr. 25 min.
David Tennant's final season with Doctor Who and perhaps his greatest adventure of all time, the heartbreaking 2-part special, "The End of Time" returns to cinemas very special 10th Anniversary celebration. Now you can relive the agony and the ecstasy of this absolutely thrilling story, featuring the return of many fan favorite actors from David Tennant's tenure as the Doctor, including Billie Piper, Catherine Tate, and many more! Featuring a brand-new interview with David Tennant in which he reflects on his time in Doctor Who and all that has come since then. You won't want to miss this once-in-a-lifetime special cinema event!

PLAYING AT:
No showtimes available
on this date.
No showtimes available
on this date.