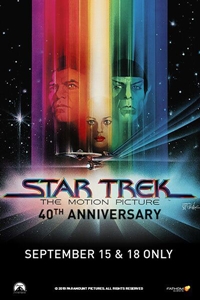 Star Trek: The Motion Picture (1979) 40th Anniversary
()
Starring: William Shatner, Leonard Nimoy, DeForest Kelley
Genre: Program
Run Time: 2 hr. 25 min.
Celebrate the 40th anniversary of Star Trek: The Motion Picture on the big screen with the original 1979 theatrical cut, featuring Jerry Goldsmith's rousing overture. When an unidentified alien destroys three powerful Klingon cruisers, Captain James T. Kirk (William Shatner) returns to a newly transformed U.S.S. Enterprise to take command. The legendary cast of the original Star Trek television series, including Leonard Nimoy, DeForest Kelley, George Takei, Nichelle Nichols, Walter Koenig, and James Doohan, mobilize at warp speed to stop the alien intruder from its relentless flight toward Earth.
CHOOSE LOCATION:
No showtimes available
on this date.
No showtimes available
on this date.