Patterns of Evidence: The Red Sea Miracle
()
CHOOSE LOCATION:
No showtimes available
on this date.
No showtimes available
on this date.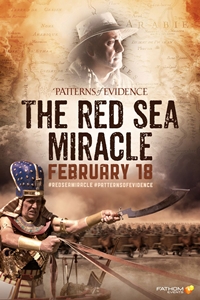 Patterns of Evidence: The Red Sea Miracle
()
Genre: Program
Run Time: 2 hr. 30 min.
It's one of the greatest miracles in the Bible; Moses and the Israelites trapped at the sea by Pharaoh's army when God miraculously parts the waters, rescuing the Israelites and destroying Pharaoh and his chariots. But is there any evidence that it really happened and if so, where? - Feb 18 & May 5 only. That's what investigative filmmaker Timothy Mahoney set out to discover 18 years ago and now he is ready to share what's been uncovered; a controversy between two dramatically different approaches in reading the biblical text. One approach is Egyptian, the other is Hebrew. Both will lead to two very different conclusions on the location of the Exodus crossing site and the cause of the miraculous parting of the sea.