Airplane! (1980) 40th Anniversary presented by TCM
()
CHOOSE LOCATION:
Wednesday, May 20
Reserved Seating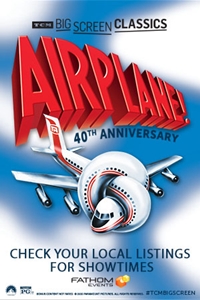 Airplane! (1980) 40th Anniversary presented by TCM
()
Genre: Program
Run Time: 1 hr. 35 min.
Robert Hays and Julie Hagerty join panicky passengers, inept ground controllers and an inflatable auto-pilot (named "Otto," of course!) in the disaster-film spoof voted "one of the 10 funniest movies ever made" by the American Film Institute.