Fiddler on the Roof (1971) presented by TCM
()
CHOOSE LOCATION:
Monday, December 14
Reserved Seating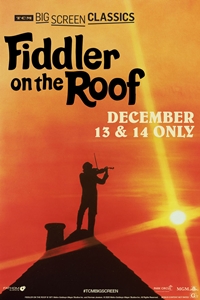 Fiddler on the Roof (1971) presented by TCM
()
Genre: Program
Run Time: 3 hr. 10 min.
In director Norman Jewison's boisterous cinematic adaptation of this international Hal Prince-Jerome Robbins smash-hit stage musical, we find ourselves in the picturesque Ukrainian village of Anatevka, in which resides Tevye ([Chaim] Topol), an impoverished milkman with a sharp-tongued wife, Golde (Norma Crane), and five unmarried daughters to support. But family troubles will soon become insignificant. Tevye, his family and their neighbors and friends are faced with the choice of losing their lives or losing their homeland...