Those Who Wish Me Dead
(R)
CHOOSE LOCATION:
Monday, May 17
|
| Reserved Seating
3:30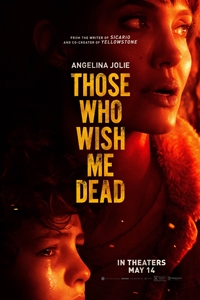 Those Who Wish Me Dead
(R)
Starring: Angelina Jolie, Jon Bernthal, Nicholas Hoult, Aidan Gillen, Tyler Perry
Directed By: Taylor Sheridan
Genre: Suspense/Thriller , Western
Run Time: 1 hr. 40 min.
A teenage murder witness finds himself pursued by twin assassins in the Montana wilderness with a survival expert tasked with protecting him and a forest fire threatening to consume them all.