The Metropolitan Opera: Don Giovanni
()
CHOOSE LOCATION:
No showtimes available
on this date.
No showtimes available
on this date.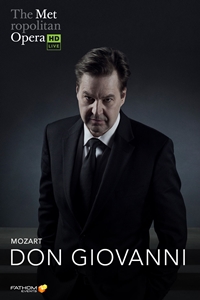 The Metropolitan Opera: Don Giovanni
()
Starring: Federica Lombardi, Ana Maria Martinez, Ying Fang
Directed By: Nathalie Stutzmann
Genre: Program
Run Time: 3 hr. 40 min.
Tony Award-winning director Ivo van Hove makes a major Met debut with a new take on Mozart's tragicomedy, re-setting the familiar tale of deceit and damnation in an abstract architectural landscape and shining a light into the dark corners of the story and its characters. Maestro Nathalie Stutzmann makes her Met debut conducting a star-studded cast led by baritone Peter Mattei as a magnetic Don Giovanni, alongside the Leporello of bass-baritone Adam Plachetka. Sopranos Federica Lombardi, Ana Mari´a Marti´nez, and Ying Fang make a superlative trio as Giovanni's conquests - Donna Anna, Donna Elvira, and Zerlina - and tenor Ben Bliss is Don Ottavio.