Rigoletto: 2020 Met Opera Encore
()
CHOOSE LOCATION:
Wednesday, November 4
Reserved Seating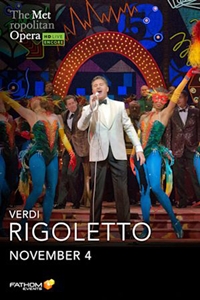 Rigoletto: 2020 Met Opera Encore
()
Genre: Program
Run Time: 4 hr. 0 min.
Michael Mayer's neon-bedecked production transports Verdi's gripping drama from 16th-century Mantua to Rat Pack-era Las Vegas, suffusing an already sinful story with additional seedy resonance. The popular score features some of opera's most beloved melodies, most notably the Duke's Act III aria, "La donna è mobile," which will have you humming long after the final curtain falls.