CHOOSE LOCATION:
No showtimes available
on this date.
No showtimes available
on this date.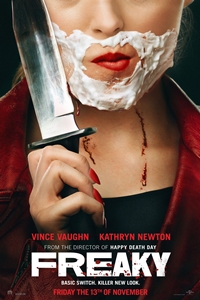 Starring: Kathryn Newton, Vince Vaughn, Celeste O'Connor, Misha Osherovich, Uriah Shelton
Directed By: Christopher Landon
Genre: Horror , Comedy
Run Time: 1 hr. 41 min.
Seventeen-year-old Millie Kessler is just trying to survive the bloodthirsty halls of Blissfield High and the cruelty of the popular crowd. But when she becomes the newest target of The Butcher, her town's infamous serial killer, her senior year becomes the least of her worries. When The Butcher's mystical ancient dagger causes him and Millie to wake up in each other's bodies, Millie learns that she has just 24 hours to get her body back before the switch becomes permanent and she's trapped in the form of a middle-aged maniac forever. The only problem is she now looks like a towering psychopath who's the target of a city-wide manhunt while The Butcher looks like her and has brought his appetite for carnage to Homecoming.