Ticket to Paradise
(PG-13)
CHOOSE LOCATION:
Thursday, December 1
|
| Reserved Seating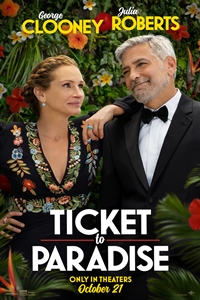 Ticket to Paradise
(PG-13)
Starring: George Clooney, Julia Roberts, Kaitlyn Dever, Lucas Bravo
Directed By: Ol Parker
Genre: Comedy , Romance
Run Time: 1 hr. 44 min.
George Clooney and Julia Roberts reunite on the big screen as exes who find themselves on a shared mission to stop their lovestruck daughter from making the same mistake they once made in TICKET TO PARADISE.