CHOOSE LOCATION:
No showtimes available
on this date.
No showtimes available
on this date.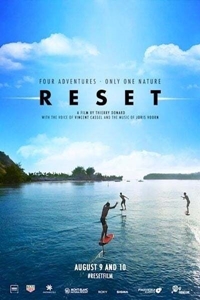 Starring: Davide Carrera, Krister Kopala, Nikolai Schirmer, Jamie Lee, Malachi Templeton
Directed By: Thierry Donard
Genre: Documentary
Run Time: 1 hr. 25 min.
After a year of dramatic changes and constant distancing, RESET takes global audiences on a journey of rediscovery of our world through the eyes of young people who have decided to give an exceptional meanings to their lives, from the Arctic Circle to the white sandy beaches of French Polynesia. Charismatic and inspiring characters share a common philosophy of a life dedicated to the practice of outdoor action sports, in deep connection with nature. Shot especially for the big screen, RESET brings a message of positivity, care and connection to our peers and our environment. This long awaited fresh start offers a new look at the world as we know it.