CHOOSE LOCATION:
Wednesday, August 4
Reserved Seating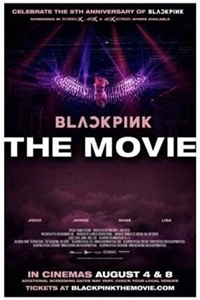 Starring: JENNIE, LISA, ROSÉ, JISOO
Directed By: OH Yoon-dong, JUNG Su-yee
Genre: Program , Concert
Run Time: 1 hr. 40 min.
The film consists of diverse sequences focused on each and every member of BLACKPINK, some of which are: 'The Room of Memories'; a segment on sharing five years of memories since BLACKPINK's debut, 'Beauty'; compelling shots of all four members with their distinct characteristics, 'Exclusive Interviews'; a message for the fans. Furthermore, BLACKPINK's distinctive stages transcending nationality and gender that captivated the world with outstanding performances fill the screen with a maximized sense of presence. 'THE SHOW' (2021), 'IN YOUR AREA' (2018), and a dozen more hit songs from BLACKPINK will be unfolded on the screens to provide the global fans with a touching experience as though they are actually at fan meeting events and live concerts.