CHOOSE LOCATION:
No showtimes available
on this date.
No showtimes available
on this date.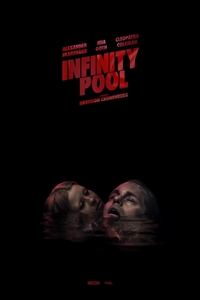 Starring: Mia Goth, Alexander Skarsgård, Thomas Kretschmann, Cleopatra Coleman, Amanda Brugel
Directed By: Brandon Cronenberg
Genre: SciFi/Fantasy , Suspense/Thriller
Run Time: 1 hr. 58 min.
While staying at an isolated island resort, James and Em are enjoying a perfect vacation of pristine beaches, exceptional staff, and soaking up the sun. But guided by the seductive and mysterious Gabi, they venture outside the resort grounds and find themselves in a culture filled with violence, hedonism, and untold horror. A tragic accident leaves them facing a zero tolerance policy for crime: either you'll be executed, or, if you're rich enough to afford it, you can watch yourself die instead.