Labyrinth 35th Anniversary
(PG)
CHOOSE LOCATION:
No showtimes available
on this date.
No showtimes available
on this date.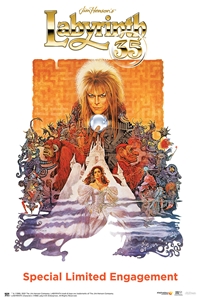 Labyrinth 35th Anniversary
(PG)
Starring: David Bowie, Jennifer Connelly, Toby Froud
Directed By: Jim Henson
Genre: Program
Run Time: 1 hr. 50 min.
This September, celebrate Jim Henson's birthday with a journey into his magical Labyrinth when the 1986 fantasy-adventure returns to the big screen for three days only as a nationwide anniversary celebration.

The 35th Anniversary screenings of Jim Henson's Labyrinth will be preceded by a brief featurette entitled "The Henson Legacy" - Jennifer Connelly and the Henson family talk about the art of puppetry and the magic of Jim Henson, along with a visit to the "Center for Puppetry Arts" featuring The Jim Henson Collection and over 100 puppets from Labyrinth!