Metropolitan Opera: The Magic Flute Holiday Encore 2021
()
CHOOSE LOCATION:
Saturday, December 11
Reserved Seating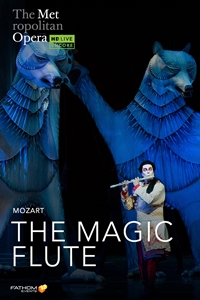 Metropolitan Opera: The Magic Flute Holiday Encore 2021
()
Directed By: Julie Taymor
Genre: Program
Run Time: 2 hr. 0 min.
This delightful performance of the Met's abridged, English-language version of Mozart's enchanting fairy tale returns to cinemas this holiday season. In the first-ever Live in HD transmission, Tony Award–winning director Julie Taymor conjures a spellbinding staging, replete with a kaleidoscope of color and parades of puppetry.