Christmas With The Chosen: The Messengers
()
CHOOSE LOCATION:
No showtimes available
on this date.
No showtimes available
on this date.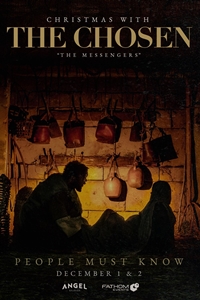 Christmas With The Chosen: The Messengers
()
Starring: Phil Wickham, Maverick City, Brandon Lake
Directed By: Dallas Jenkins, Jacob Schwartz
Genre: Program
Run Time: 2 hr. 4 min.
The Chosen has a special Christmas event in theaters! Come and see: Phil Wickham, For King & Country, Brandon Lake, Maverick City, Cain, Matt Maher, Bryan & Katie Torwalt, Jordan Feliz, We The Kingdom, The Bonner Family, Leanna Crawford, Dawson Hollow, and One Voice Children's Choir. This extraordinary lineup of artists will perform new and classic Christmas songs from the set of The Chosen. Plus, you'll hear from your favorite cast members about the message of Christmas. This is the perfect opportunity to bring friends and family - including those who haven't seen The Chosen - for a unique Christmas experience.