Magic Mike: Galentine's Day Event
()
CHOOSE LOCATION:
No showtimes available
on this date.
No showtimes available
on this date.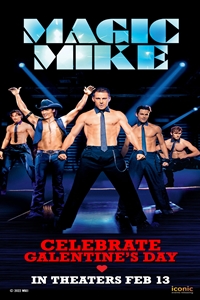 Magic Mike: Galentine's Day Event
()
Starring: Channing Tatum, Alex Pettyfer, Matthew McConaughey, Joe Manganiello, Olivia Munn
Directed By: Steven Soderbergh
Genre: Comedy , Drama
Run Time: 2 hr. 0 min.
Mike is a man of many talents and loads of charm, he spends his days pursuing the American Dream from as many angles as he can handle: from roofing houses and detailing cars to designing furniture. But at night... he's just magic. The hot headliner in an all-male revue, he has been rocking the stage at Club Xquisite for years with his original style and over-the-top dance moves. Seeing potential in a guy he calls the Kid, Mike takes the 19-year-old under his wing and schools him in the fine arts of dancing, partying, picking up women and making easy money. It's not long before the club's newest act has fans of his own, as the summer opens up to a world of fun, friendship and good times.