CHOOSE LOCATION:
Tuesday, September 13
Reserved Seating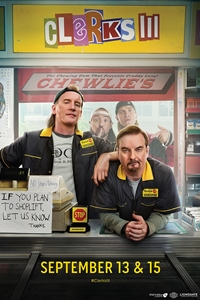 Starring: Brian O'Halloran, Jeff Anderson, Marilyn Ghigliotti, Rosario Dawson, Trevor Fehrman
Directed By: Kevin Smith
Genre: Comedy
Run Time: 1 hr. 55 min.
Following a massive heart attack, Randal enlists his friends and fellow clerks Dante, Elias, Jay, and Silent Bob to make a movie immortalizing his life at the convenience store that started it all.Plus, go behind the scenes with Kevin Smith and the cast of Clerks III. Hear what it took to bring back the cast of this iconic franchise and their time together since the first film 28 years ago.