CHOOSE LOCATION:
No showtimes available
on this date.
No showtimes available
on this date.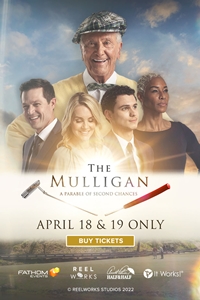 Starring: Eric Close, Nancy Stafford, Pat Boone, Gary Weeks, Philip Boyd
Directed By: Michael O. Sajbel
Genre: Drama , Program
Run Time: 2 hr. 5 min.
An intensely driven CEO, Paul McAlister is a success in everything—except life. Separated from his wife and estranged from his son, Paul's steely-eyed focus remains solely on his next boardroom mega-deal. But like an errant tee-shot on a difficult hole, Paul's life could use a do-over... a "mulligan." With the help of a new friend known as "the Old Pro," Paul is challenged to focus more on his priorities and purpose than pitching and putting. Desperate to make something good of a situation gone bad, Paul discovers he could he needs the ultimate mulligan. Based on the popular book by Wally Armstrong and Ken Blanchard.