jackass forever plus bonus content
(R)
CHOOSE LOCATION:
No showtimes available
on this date.
No showtimes available
on this date.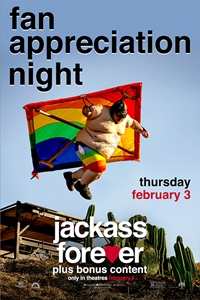 jackass forever plus bonus content
(R)
Starring: Johnny Knoxville, Steve-O, Chris Pontius, Dave England, Wee Man
Directed By: Jeff Tremaine
Genre: Comedy
Run Time: 1 hr. 44 min.
Paramount Pictures is pleased is present jackass forever Fan Appreciation Night to celebrate our exclusive launch in theatres. The 1-night turnkey endeavor delivers 6-8 mins of exclusive bonus content after the credits as part of the opening night celebration on the big screen. Available at all participating playdates adding extra laughs for fans in attendance on Thursday night, February 3rd. The content will be high energy and lively in the true spirit of the jackass movies giving the ultimate fan a look behind the scenes. Johnny Knoxville & some of his cast of stunt buddies also taped a greeting to introduce Thursday night shows + remind fans to stay after the movie for the special content.