Meg 2: The Trench
(PG-13)
CHOOSE LOCATION:
No showtimes available
on this date.
No showtimes available
on this date.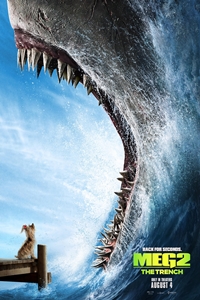 Meg 2: The Trench
(PG-13)
Starring: Jason Statham, Wu Jing, Shuya Sophia Cai, Cliff Curtis, Page Kennedy
Directed By: Ben Wheatley
Genre: Action/Adventure
Run Time: 1 hr. 56 min.
Dive into uncharted waters with Jason Statham and global action icon Wu Jing as they lead a daring research team on an exploratory dive into the deepest depths of the ocean. Their voyage spirals into chaos when a malevolent mining operation threatens their mission and forces them into a high-stakes battle for survival. Pitted against colossal Megs and relentless environmental plunderers, our heroes must outrun, outsmart, and outswim their merciless predators in a pulse-pounding race against time. Immerse yourself in the most electrifying cinematic experience of the year with "Meg 2: The Trench" - where the depths of the ocean are matched only by the heights of sheer, unstoppable excitement!