One Piece Film Red
(PG-13)
CHOOSE LOCATION:
No showtimes available
on this date.
No showtimes available
on this date.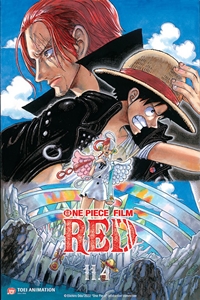 One Piece Film Red
(PG-13)
Starring: Hiroaki Hirata, Chô, Shûichi Ikeda, Kazuya Nakai, Kaori Nazuka
Directed By: Gorô Taniguchi
Genre: Animation
Run Time: 1 hr. 55 min.
Uta - the most beloved singer in the world whose voice has been described as "otherworldly" - is renowned for concealing her own identity when performing. Now, for the first time ever, she will reveal herself to the world at a live concert.With the Navy watching closely, the venue fills with Uta's fans - including excited pirates and the Straw Hats led by Luffy, who simply came to enjoy her sonorous performance -all eagerly awaiting the voice that the whole world has been waiting for to resound. The story begins with the shocking revelation that she is the enigmatic Shanks' daughter.