The Metropolitan Opera: Der Rosenkavalier
()
CHOOSE LOCATION:
Saturday, April 15
Reserved Seating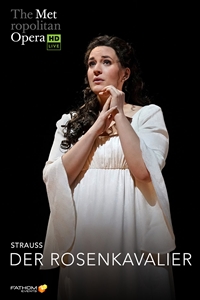 The Metropolitan Opera: Der Rosenkavalier
()
Starring: Lise Davidsen, Erin Morley, Isabel Leonard
Directed By: Simone Young
Genre: Program
Run Time: 4 hr. 45 min.
A dream cast assembles for Strauss's grand Viennese comedy. Soprano Lise Davidsen is the aging Marschallin, opposite mezzo-soprano Isabel Leonard as her lover Octavian and soprano Erin Morley as Sophie, the beautiful younger woman who steals his heart. Bass Gu¨nther Groissbo¨ck returns as the churlish Baron Ochs, and baritone Markus Bru¨ck is Sophie's wealthy father, Faninal. Maestro Simone Young takes the Met podium to oversee Robert Carsen's fin-de-sie`cle staging.